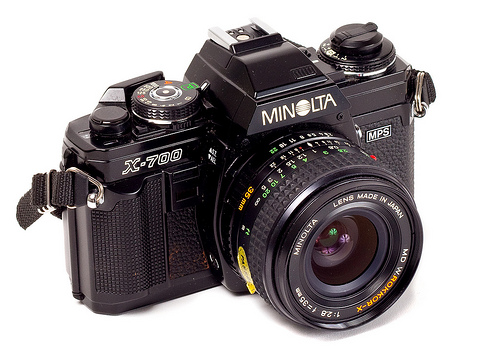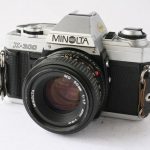 My x-300 Minolta never disappointed me but I decided to try the more sophisticated x-700 model, widely available in the net, to explore some of the advantages of the A, S & P and the TTL functions the x-300 don't have.
The Minolta X-300 is a 70's – 80's 35mm manual focus SLR using the Minolta SR lens mount used on all Minolta manual focus bodies beginning in 1958. The X-300, became the basis of Minolta's manual-focus SLR cameras after the introduction of the auto-focus Maxxum/Dynax lines. The various X-370's were less expensive than the new, auto-focus cameras, but still had all the features that a new or experienced photographer need.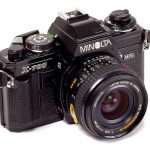 The Minolta X-700 is a 80's – 90's sold until 2000 35 mm single-lens reflex film camera introduced by Minolta in 1981. It was the top model of their final manual-focus SLR series before the introduction of the auto-focus Minolta Models.
The Minolta x-700 uses the basic XG-M body with electronic control step less speeds, but added full program auto-exposure in addition to the XG-M's aperture priority and metered manual modes. It also introduced through-the-lens (TTL) flash metering, and added exposure lock and interchangeable focusing screens to the XG-M's features.
Operating these cameras is easy and intuitive. Of course the manual mode needs a lot of practice but there is plenty of guidelines in taking pictures in manual mode in some speciality books and the web.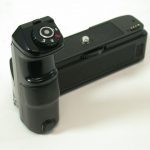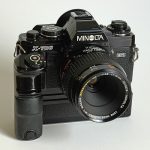 The grip adapter MD-1 is a must. It adds auto film load and more battery autonomy. This grip has a second shooting button to easy take vertical pictures! Is also interchangeable between the x-300 and the x-700.
But is a heavy-set! Need some adapting…
The lens are all interchangeable too, due to the common SR mount.
I'll publish in the future some articles about the Minolta lens and some DIY I did to solve some difficulties I found when repairing and doing some maintenance on the lens.