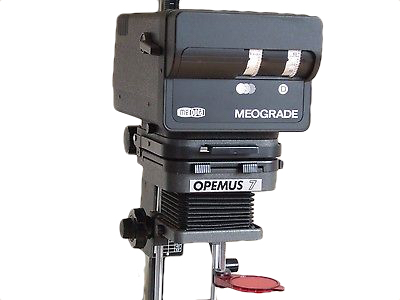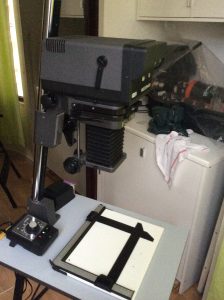 My enlarger is a Meopta Opemus 7 with a Meograde head. It allows 24×36, 6×6 and 6×7 negative films. This enlarger has by default a condenser, but luckily I found a 2nd hand one with the Meograde Diffuser Head.
Meopta enlarger are machines designed to offer lots of performance for relatively little money. There's still 2nd hand Meopta's units for sale in the web.
The Meograde Head is a device for black and white scale gradation Multigrade photographic papers. The head was designed to be used from model Axomat 5 to Opemus 7 and Magnifax 4 enlarger.
You must select a suitable mixing chamber depending of the film used (a choice of 24x36mm, 60x60mm, 60x70mm or 65x90mm). It comes by default with the 60x70mm model. There is still Meopta mixing chambers at sale at thedarkroom.co.uk and fotoimpex.de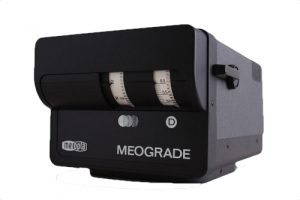 The Meograde head uses a 100-watt 12-volt Dichroic glass MP5 halogen lamp, for 220 volts power supply. They're rugged and very well-designed units. There is also an axis to correct convergent lines and Contrast Dial specially designed for Multigrade paper, and a Density Dial (ND filtering) to change the light intensity from 0 to 60 (every 30 increments means a 1 f-stop).
To exchange the lenses, you just need to lose the retaining screw and remove the circular lens board (screw-thread M39 x 1). A flat board is supplied for 80mm lenses and inverting it allows the use of 50mm lenses.
The follow objectives focal lengths are suitable for:
| | | | | | |
| --- | --- | --- | --- | --- | --- |
| Objective | 24×36 | 60×60 | 60×70 | Enlarging ratios | Meopta Ref. |
| 50mm | x | | | 0.95x to 6x | 392-861-620-101 |
| 80mm | | x | | 0.74x to 7.5x | 392-861-620-102 |
| 90mm | | | x | 2.7x to 13x | 392-861-620-104 |
The metallic negative holder is very compact, and allows image margins adjustments in a all-in-one fashion. To print bigger formats, the head can rotate 90° for wall projections, and the vertical axis can rotate 180° for floor projections.
This is the timer which my the enlarger operates.
VIPONEL DARKROOM CLOCK, TYPE S 15
The double-range darkroom clock is used for precise measuring of the switching-on time of the connected electric consumer, particularly enlarging apparatus. Precise repeating of the switching-on time it is suitable for work with black and white as well as colour photographic material. Furthermore it may be used for work in labs.
| | |
| --- | --- |
| Switching current: | 6 A/220 V ac, upon desire 6 A/110 V |
| Switching range: | "1x" 0.2 – 6 sec., "10x" 2.0 – 60 sec. |
| Dimensions: | 98x140x78 mm |
It's a very versatile low-cost and time wear bullet proof equipment!